Crews tackle moorland blaze near Winter Hill TV mast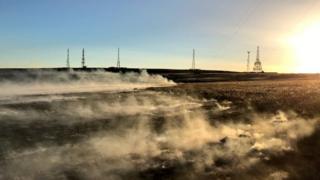 Up to 100 firefighters are tackling a blaze on Winter Hill close to the TV and radio transmitter mast near Bolton.
Lancashire Fire and Rescue Service (LFRS) said it had received reports of a grass fire on the hill at 15:20 BST.
Twelve fire crews are at the scene, including six from Greater Manchester who have called on the Army to help battle another moorland blaze near Saddleworth Moor.
Smoke was visible across Lancashire and Greater Manchester.
The fire service said there were several pockets of fire over an area approximately 1km square (0.62 mile) in size.
Crews have been tackling it from three locations using specialist wildfire fighting equipment in addition to hoses and beaters.
Firefighters, assisted by mountain rescue officers and United Utilities, have had to walk 20 minutes with their equipment to reach the blaze site.
LFRS said there was no immediate risk to livestock, domestic properties or infrastructure.
However, it advised anyone close to the smoke to keep windows and doors closed.
Justin Johnston, the deputy chief fire officer for Lancashire, tweeted a "sterling effort" was being made to get it "settled before nightfall".
He added a "massive well done" to not just the firefighters at the scene but also the command and control teams in the background.
Chorley MP Sir Lindsay Hoyle has urged people not to visit the area and said he was asking the authorities if they needed any extra resources.