Barnoldswick magnet fisher lands 'WW2 mortar'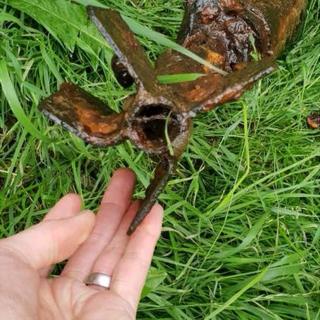 A man who went magnet fishing in a canal landed a surprise catch when he retrieved a wartime explosive.
An Army bomb disposal team was called after David Law found what was believed to be a World War Two mortar in Barnoldswick, Lancashire.
The team secured the area on Monday evening before police confirmed the device was not a threat to the public.
"I was very shocked," said 35-year-old Mr Law, who only took up the hobby six months ago.
Similar to mudlarking, magnet fishing sees enthusiasts dangle powerful magnets into water in the hope of retrieving valuable metals, coins or other treasures.
Father-of-three Mr Law continued: "This is the most unusual thing I have found.
"The area was never bombed in the war although it could have fallen from a German bomber returning from a raid.
"Some people have told me it could even be a British one that might have slipped off a barge, but the Army will have to confirm what it is."
Writing on Facebook, Mr Law's wife Jemma said: "Only my husband could find a World War Two bomb in the canal while magnet fishing, and have the road and canal closed with bomb squad en route."
A Lancashire Police spokeswoman said a bomb disposal unit would carry out further assessments of the area later.