Ikea pulls out of flagship Lancashire store in Cuerden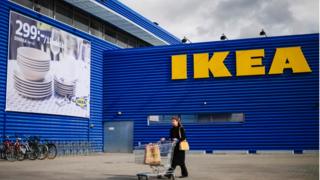 The leader of Lancashire County Council is seeking urgent talks with Ikea after it pulled out of a proposed flagship store of a multimillion-pound scheme.
The Swedish furniture giant had started groundworks for the store, which was due to open in 2020 at the £36m Cuerden Strategic Site in South Ribble.
Geoff Driver admitted the move put the whole project in jeopardy, but said the site is "still a massive opportunity".
Ikea served notice on Thursday, saying the site was "no longer viable".
The store was due to create 350 jobs.
Ikea had been due to be one of five large retail units alongside six restaurants, hundreds of houses and almost 2,000 car parking spaces on a 160 acre (0.65 sq km) site near Bamber Bridge.
After announcing it no longer wanted to be part of the scheme its property manager, Richard Rands, said: "Our decision is due to increased development costs and delays outside of Ikea's control which no longer make this location viable.
"We will continue to look for new sites and opportunities in this area as part of our commitment to expansion in the UK."
The store was due to be Ikea's first in Lancashire and, according to the company, the second biggest in the UK. The nearest Ikea outlets are currently in Manchester and Warrington.
Analysis - Mike Stevens, BBC Radio Lancashire political reporter
It will now be a case of damage limitation for council bosses.
They will be hoping that other retailers - including the likes of Marks and Spencer, who have signed up to be a part of the development at Cuerden - don't follow suit and pull out.
We have already heard senior figures calling on Ikea to reconsider their decision.
I wouldn't be surprised if we even see them being offered incentives to make a U-turn.
However, as it stands, the main objective for the developers will be finding a suitable replacement anchor store for the site as quickly as possible.
The leader of South Ribble Borough Council, councillor Mary Green, said: "While I would strongly urge Ikea to continue with their plans for the site, there remains a really strong demand for commercial space in South Ribble, given the excellent links to the motorway networks.
"We will be working incredibly hard with Lancashire County Council and our partners in order to continue to bring the Cuerden site forward."
Campaign group Limit Cuerden tweeted it was "clearly bad news about lack of jobs", but added it was "hugely relieved about the traffic. Would have caused gridlock in South Ribble with ill-thought traffic plan".