Chorley and Royal Preston hospitals on high alert 169 times over winter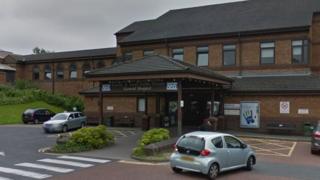 Two hospitals in Lancashire were at the highest level of alert 169 times over the winter of 2017-18.
A BBC Freedom of Information (FOI) request found Chorley Hospital declared 87 "Opel 4" alerts, signalling when patient safety could be compromised, while Preston Royal issued 82.
The hospitals' trust said staff "worked tirelessly" to keep patients safe.
Previous FOI requests showed only 32 such alerts were made in Cheshire and Merseyside during the same period.
The Operational Pressures Escalation Levels (Opel) framework aims to bring consistency nationally in times of pressure.
Four levels of Opel alerts, which can be declared for as short as a few hours, flag up pressure on the health system.
The Lancashire Teaching Hospitals NHS Foundation Trust had initially refused to provide the information on the high alerts between the end of November and the start of March, but later revealed it had a total of 169 high alerts at its two hospitals.
Chorley MP Sir Lindsay Hoyle said the "major crisis" at the town's hospital "cannot continue".
The Labour MP said: "The hospital has got to stop being in denial. It has got us all round the table and it has got to sort out the problem.
"Why is Chorley and [Royal] Preston hospital letting the people of Lancashire down and putting lives at risk?"
He said the "loyal staff" needed help and support to "deliver the services people expect".
He said he had called a meeting with the trust and was "ready" to meet the health minister but the trust had yet to get back to him.
"It's no use meeting the health minister until I know what the problems are," he added.
Lancashire Teaching Hospitals NHS Foundation said in a statement: "Winter was exceptionally busy and our staff worked tirelessly to keep patients safe in challenging circumstances.
"We are already planning ahead for next winter to make sure the right services are available."
---
'Painful'
David Claringbull told the BBC his partner Norma is in Royal Preston having treatment for her back.
He said she was left for at least six painful hours in a corridor overnight on Sunday at Royal Preston.
Mr Claringbull said there were six other people in corridors waiting to go in to the A&E department.
Despite the long delays to be seen he said the staff at the hospital were "dedicated and loyal".
---
Figures reported on Tuesday obtained from the NHS North West Clinical Commissioning Group - which excluded Chorley and Royal Preston - showed a rise to 32 Opel 4 alerts this winter compared to two in the same period in 2016/17.
NHS England said "prolonged bad weather" and "a rise in the severity of illness" had put trusts under pressure.
Chorley Hospital's A&E department was shut for nine months and downgraded to an urgent care service in April 2016 due to a shortage of doctors.