Teen driver who caused panic on Blackpool streets detained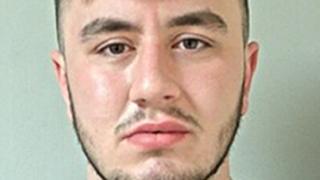 A man who injured three women when he drove at people outside a nightclub has been given five years in detention.
Jake Hartley, 19, of Todmorden, caused panic in Blackpool as clubs and bars "went into lockdown" at about 23:50 BST on April 14, Lancashire Police said.
Hartley, of Rochdale Road, pleaded guilty to a range of offences including causing serious injury by dangerous driving, drink driving and assault.
PC Chris Hammond said it was "a matter of luck" no-one was killed.
Hartley also admitted aggravated taking of a vehicle without consent and possession of a firearm and a knuckle duster at Preston Crown Court on Wednesday.
Police were called to reports of a grey Skoda estate - bearing no registration plate - being driven at speed and colliding with a number of pedestrians.
A woman aged in her 80s was left with a broken collarbone and another woman in her 70s suffered a sprained ankle.
A third woman in her 30s suffered a broken tooth, a swollen jaw and bruises to her legs. All three were treated in hospital and later discharged.
Shortly before the incident, Hartley had been thrown out of the resort's Home & HQ club in Talbot Square.
Armed officers were deployed to the scene and the car was recovered outside the Norbreck Castle Hotel.
PC Hammond said it "was a terrifying incident".
He said "innocent members of the public who wanted nothing more than to enjoy a night out in Blackpool" had to be "held inside bars and clubs for their own safety".
The judge sentenced Hartley to five years in a young offenders' institution.