Firework caused Parbold barn blaze that killed boy, 14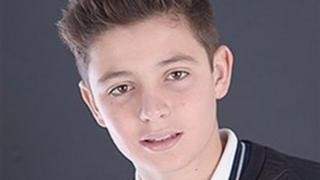 A 14-year-old boy died in a barn blaze after a firework ignited bales of hay trapping him inside, an inquest heard.
Louis Simpson died after climbing through a window at the barn in Fairhurst Hall, Parbold, Lancashire.
The inquest heard three friends he was with started leaving the scene as Louis said "I want to show you something".
They then heard a bang before the fire broke out killing Louis, on 29 January 2017. Coroner James Newman concluded his death was caused by misadventure.
His father Andrew told the hearing: "He was such a loving child, adored by all his family and friends.
"He lived life to the full. A great sportsman. So effervescent.
"We will remember him for the boy he was. He was just such an amazing, loving son."
'Felt like an oven'
Preston Coroner's Court heard the burning of 150 tonnes of hay would have felt like an oven and conditions would have caused Louis's death within minutes.
One boy tried to go back to the barn but the heat was too intense.
The blaze had burned through the roof by the time the first fire engine arrived.
It took 24 hours to find Louis's body, in the upper level of the barn near where he had entered.
A post-mortem examination found Louis, of Tan House Lane, Parbold died from severe burns.
The remains of a firework were discovered close to his body.
Mr Newman said: "This appears to me to be a tragic incident as boys have been playing, as boys will.
"The fire has developed, and far faster than anyone expected, and it led to Louis being trapped in the barn and dying as a result of that."