Young Farmers Convention doubts over Blackpool behaviour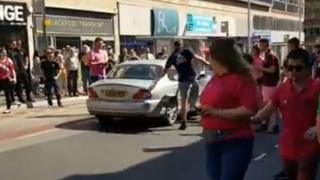 The future of the Young Farmers' Convention is in doubt after complaints of "intimidating" abuse and aggressive behaviour.
The National Federation of Young Farmers' Clubs said 6,000 members were in Blackpool at the weekend.
The NFYFC said it was "ashamed" after seeing footage of the behaviour of youths wearing YFC merchandise.
Blackpool Council is demanding "urgent" talks and "clear guarantees" from organisers.
Alex Miklos posted videos on Facebook of people wearing YFC logos shouting abuse, kicking cars and buses and a man taking the keys from inside a car and throwing them away.
Paige Hartley, from Lancaster, said the keys belonged to her boyfriend, and they were taken in Market Street in the town centre on Sunday.
'Completely outnumbered'
Another man tried to get into the car whilst he retrieved the keys and he "had to push him away and then they started shouting profanities at us", she said.
She said they were "harassing... and terrorising... innocent members of the public", which was "very intimidating" as they were "completely outnumbered".
She said it would deter families from going to Blackpool.
The chairman of the federation, Lynsey Martin, said in a statement on Facebook that members "work hard to support local communities - not attack them."
"The people intimidating members of the public in this video are not representative of YFC members and should not be allowed to wear our YFC logo."
Ms Martin said the event's "future viability" rests "on the shoulders of all those who choose to ignore this policy."
Deputy leader of Blackpool Council Gillian Campbell said: "Our main aim has to be to protect our visitors and ensure residents can enjoy their own town centre without being subjected to some of the scenes that have been witnessed this weekend."
Lancashire Police is yet to comment.