Matthew Moseley guilty of shotgun murder he blamed on son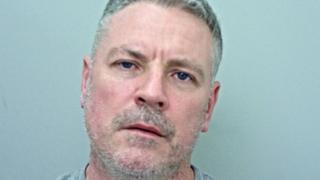 A tree surgeon who tried to pin the blame on his own 14-year-old son after he shot a man at his front door has been found guilty of murder.
Matthew Moseley, 50, shot Lee Holt in the chest when he tried to get into his home in Oswaldtwistle, Lancashire on 25 October.
Prosecutors claim Moseley, 50, fired the shotgun but handed it to his son saying: "Tell them you've done it."
He was convicted at Preston Crown Court and will be sentenced next week.
Police labelled him as "wicked" for blaming his son while Mr Holt's mother said she "loved him dearly" after the verdict.
Marilyn Holt said: "Nobody should lose one of their children.
"But they certainly shouldn't be lost in these circumstances, gunned down on a doorstep in a quiet residential street.
"I'm not sure how the family will ever recover from this."
Mr Holt, 32, had been part of a group of four who had been swearing and trying to kick the front door down of Moseley's home.
The court heard that Mr Holt, from Accrington, visited the address as part of a long-standing dispute between Moseley's son and his partner's son, also aged 14, which had flared up on social media.
The prosecution claimed Moseley opened his front door and fired a Beretta semi-automatic shotgun once at Mr Holt.
But Moseley, a keen clay pigeon shooter who kept 23 guns lawfully at his home, claimed he tried to knock the gun out of his son's hands when he saw it being aimed at Mr Holt.
Mr Holt died of a single gunshot wound.
The prosecution claimed Moseley - not his son - shot Mr Holt and tried to coerce his son into taking the blame.
The court heard his 14-year-old son told police: "No normal kid has ever had to do anything like this."
Inspector Jill Johnston of Lancashire Police described Moseley as "wicked" for getting his son to take the blame and stressed he had "shown no remorse".
Moseley will be sentenced on Tuesday.