First Asian women elected as Blackburn councillors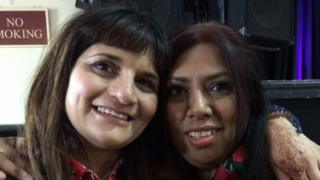 Blackburn voters have elected the town's first Asian women councillors.
Labour's Saima Afzal - who first stood as a candidate in 1999 - and Maryam Batan have been toasting victory.
The Lancashire town has one of England's largest Asian populations but the absence of Asian female councillors previously drew concern.
Councillor Afzal, a former assistant Police and Crime Commissioner for Lancashire, said: "This is about women everywhere, whatever background."
The previous absence of Asian female councillors in Blackburn was in stark contrast to similar towns such as Oldham, Rochdale and Bury, where at least one Asian woman had been elected to their councils.
Councillor Afzal also stood as a Labour candidate in different Blackburn wards in 2000 and 2001 - coming second each time.
She previously told the BBC some local Asian men had been unsupportive.
In an interview earlier this year, she said: "I was told to look like a Muslim. I was a woman with a stigma, I'd left a forced marriage."
Blackburn saw an influx of Pakistani and Indian immigrants in the 1960s, many of whom worked in its textile mills.
At the 2011 census, nearly a third of its 147,500 residents were recorded as Asian, of which half were women.
Yet the demographics were not reflected by the area's previous political make-up, where 19 Asian men were councillors but there were no women.
Analysis: Rahila Bano, BBC Asian Network
The election of two Asian women on to Blackburn with Darwen Council is significant for several reasons.
Firstly, about 28% of the town's population consists of those of Indian and Pakistani origin.
Secondly, about half of them are female.
It's taken Saima Afzal 19 years to be elected. She first stood in the Corporation Park ward in 1999 and came second.
So, this victory is extra special for her.
For Maryam Batan - a mother who works in accounts for a local business - it was her first foray into local politics.
They say they will fight for women's rights and be a voice for all women in the borough.