Oswaldtwistle shooting: 'Teenager was doorstep killer'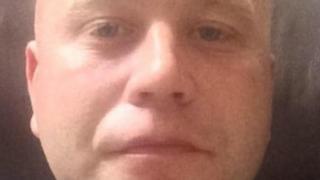 A teenager who went to settle a dispute with a boy, 14, saw him shoot a man dead on his doorstep, a court heard.
The boy, 15, told police the 14-year-old aimed a shotgun at Lee Holt "like he'd held it before" and fired.
The 14-year-old's father, Matthew Moseley, is on trial at Preston Crown Court accused of murdering Mr Holt in Oswaldtwistle, Lancashire, in October.
The witness said it was the teenager who shot Mr Holt before "pointing the gun at everybody...in a real calm way".
Prosecutors say Mr Moseley, 50, shot Mr Holt, 32, with a 12-gauge semi-automatic Beretta, handed it to the teenager and told him to take the blame.
Jurors saw a video of the witness being interviewed by police after the 25 October shooting.
He said he went to the house with his mother and her partner Mr Holt, after the 14-year-old challenged him to a fight.
His mother and Mr Holt were annoyed and wanted to sort things out "adult to adult", the court heard.
'So casual'
The witness said the boy appeared at the door with his parents behind him.
He said: "No-one said anything. I saw that [the 14-year-old] had a gun. I'm pretty sure it was a single-barrelled shotgun.
"He was holding it like confident. Like he had it held before."
The police officer asks: "How long is it before he shoots?"
The witness replied: "Just two seconds but at the time it felt like a good 30 seconds."
He said Mr Holt screamed while holding his chest and fell down.
"Then [he] started pointing the gun at everybody... in a real calm way like nothing had happened, so casual," he said.
The witness said he ran to hide behind a parked car before going to pick up Mr Holt, who later died in hospital.
The trial continues.