Clayton Hall landfill site owners seal off 'stench' area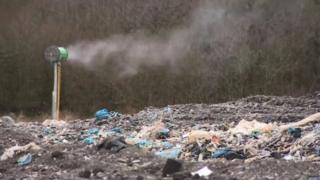 A waste management company has sealed off part of a landfill site believed to be the source of a "horrendous stench".
The Environment Agency (EA) ordered Quercia to seal the area at the Clayton Hall site, near Chorley, in January following protests, and banned it from taking waste in February.
A subsequent inspection found the smell was "dispersing quickly".
However, the site can not take waste until mid-April to allow for further investigation, the agency said.
Steve Grieve, of Quercia, said the "complicated operation" involved putting a plastic sheet over a "very, very large area" and sealing the edges.
'Significant pollution'
The EA, which tested the site on 26 March, said in a statement: "Any smell that has been detected is dispersing quickly".
It has served Quercia with a new enforcement notice requiring the firm to make further improvements by 16 April.
The company was facing prosecution after failing to meet a deadline to seal the area, which is roughly the size of two football pitches.
Nearby residents have been protesting for the past six months, and Clayton-le-Woods parish councillor Mark Clifford recently described the smell as a "horrendous stench".
Mr Grieve said he was "very sorry" people had been affected by "significant pollution".