Booths supermarket halts sale of quail eggs over farm footage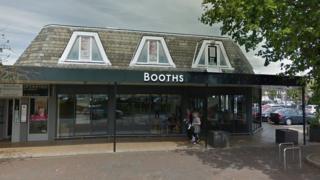 A supermarket chain has stopped selling quail eggs after footage of conditions on a farm emerged and caused concern.
Booths is investigating Fayre Game in Lytham, Lancashire, after footage was posted on Facebook allegedly showing quails - some dead and others with feathers missing - at the farm.
Conditions "are compliant with current legislation", a farm spokesman said.
The RSPCA said it had asked the Animals and Plant Health Agency (APHA) to investigate.
A neighbour filmed the video at the Lodge Lane farm, which shows hundreds of quails in cages.
You may also be interested in:
The city at war over its trees
UK passports 'to be made in France after Brexit'
Why aren't more Muslim families fostering?
Booths said "issues of food safety and provenance are of principal importance" and they "have withdrawn this product from sale and are reviewing the matter with our supplier immediately to investigate the situation".
A spokesman for the farm said APHA inspectors had given him verbal assurances there were no breaches after an inspection on Wednesday afternoon.
Howard Warmisham said Fayre Game farms quail and quail eggs "in a battery format... in conditions that are compliant with current legislation".
He confirmed Booths had "temporarily suspended selling our product" but said they would "be visiting our site to inspect conditions with a view to continuing to supply our product to them".
He said the farm was "in regular dialogue" with the APHA to ensure they followed its "strict requirements and guidelines".
An RSPCA spokeswoman said it was "made aware of concerns relating to the welfare of quail" at the farm.
An APHA spokesman said the agency did not comment on individual cases but "takes potential breaches of animal welfare legislation very seriously".