Clayton Hall landfill 'stench': Owners Quercia miss deadline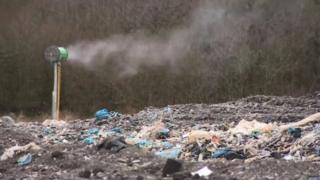 A waste management company could face prosecution after missing a deadline to deal with a landfill site's "awful stench", officials have said.
Locals have held protests about the bad smell coming from the Clayton Hall site, near Chorley, for six months.
Quercia had until midnight to deal with the issue, but failed to meet the deadline due to "challenging weather".
The Environment Agency (EA) said it would investigate the delay before deciding on any course of action.
The firm has been installing a plastic cap to cover and seal the site, which it hopes will resolve the issue.
'Lost faith'
Apologising for the delay, Quercia's general manager Steve Greave said the work was taking longer than expected because it was "quite an involved process", but it should be completed by 26 March.
Parish councillor Mark Clifford said the problem with the "horrendous stench... cannot carry on".
He said locals had "lost faith" in the EA and the agency should "get a grasp of what's going on and use their powers", adding: "The good weather is coming and people will want to use their barbecues."
Chorley MP Lindsay Hoyle has called for the site to be closed and residents to be compensated.
The EA stopped the site from taking waste after an enforcement notice served in January did not lead to improvements.
A spokesman said the probe into the missed deadline was "separate to any ongoing investigation of the company's failure to comply with the conditions of their environmental permit".
The agency has the power to fine or prosecute the firm for failing to comply with the EA's notices.