Barbara Castle: Statue plan to honour former Blackburn MP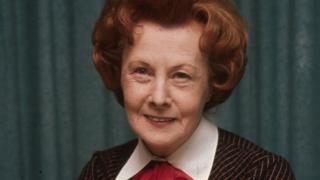 A fund-raising appeal has been launched in the hope of building a statue tribute to a former MP who introduced equal pay for women.
Blackburn with Darwen Council hopes to raise £50,000 for the project in memory of Barbara Castle, who died in 2001.
It would be placed somewhere in the town centre, potentially outside Blackburn College's Victoria Building.
The former Blackburn MP has been described as an inspirational "force for good" in women's rights.
The appeal was launched on International Women's Day.
Mrs Castle served as Blackburn MP from 1945 until 1979, when she stepped down and Jack Straw was elected to the seat.
The tax inspector's daughter was the youngest woman elected in Labour's 1945 landslide victory, and regularly fought for equality for women.
She joined the cabinet and introduced the Equal Pay Act in 1970 following a dispute involving female workers at Ford's plant in Dagenham, east London.
Her other achievements included the introduction of the breathalyser and seatbelts being made compulsory in new cars.
The Barbara Castle Trust has pledged £19,000 towards the cost of statue but an online crowdfunding appeal aims to raise a further £50,000 needed to complete the project.
Ms Bateson said: "This is the perfect time for us to honour somebody who was such a force for good and a champion of women's rights in her unique style.
"The statue could quite easily have gone to London. Blackburn is by far the best place for it."