Blackpool Pride boycotts venue over controversial preacher booking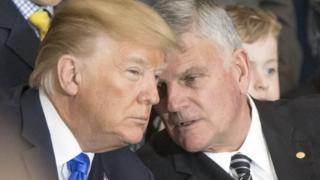 Organisers of Blackpool Pride are boycotting a venue earmarked for their two-day festival after a controversial US preacher was booked to appear there.
The event was due to be held at the town's Winter Gardens in June.
But organisers said they had decided not to use the complex after evangelist Franklin Graham was booked to speak there three months later.
Mr Graham, the son of the late preacher Billy Graham, has said he believes gay marriage is a "sin".
Pride's concerns have prompted Blackpool South MP Gordon Marsden to consider raising the matter with the government.
Mr Marsden said: "This decision by Blackpool Pride underlines just how divisive his trip to Blackpool is.
"I have written to the Home Secretary and urged her to look at what he has said and tweeted."
Blackpool Pride organisers said they were now hoping to arrange an alternative outdoor event.
Co-ordinator Callum Davies said: "Franklin Graham has said some ridiculous things.
"His presence goes totally against everything that gay pride stands for."
LGBT campaigners have previously urged the Home Office to ban him from the UK.
Asked about his views, Mr Graham, 65, told the BBC: "I believe that marriage is for a man and a woman and that is what the Bible teaches us.
"I know this a free country and if that's the lifestyle they choose then they are free to do that.
"I love them enough to warn them that this is sin, and there are consequences to sin.
"If we don't repent and turn from our sins then we are doomed."
Local church pastor Nina Parker has accused Mr Graham of "hate speak" and said a petition had begun calling for him to be banned from visiting the country.
Mr Graham has been asked to appear at Winter Gardens by the Billy Graham Evangelical Association in September.
The BBC has approached the organisation for a comment.
Councillor Maria Kirkland, speaking on behalf of Blackpool Council and Winter Gardens, said the authority had been made aware of concerns about Mr Graham's visit and was consulting with the Billy Graham Evangelical Association.
However, she said whether alleged comments made by Mr Graham constituted hate speech was a matter for the Home Office.
"The council will be forwarding all the material that has been given to us and we would encourage other interested parties to do the same," she said.
"The council's position on these matters is robust and clear.  We want to tackle discrimination, promote equality and increase respect and understanding between people regardless of their race, religion or sexual orientation."
Ms Kirkland added that all organisers of events at Winter Gardens were invited to attend Lancashire Police's safety advisory group, to consider potential public disorder.