UKIP a 'sinking ship', says party's only county councillor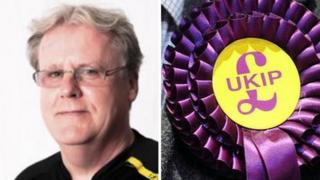 The only UKIP county councillor in Britain has described the party as a "sinking ship".
Alan Hosker, who sits on Lancashire County Council, spoke out after ousted leader Henry Bolton quit insisting he is not a "private racist".
Mr Bolton was forced out as party leader after his partner Jo Marney sent racist messages about Meghan Markle.
Mr Hosker insisted he would not abandon the party, saying: "The good times will come back, hopefully".
The Padiham and Burnley West councillor told BBC Radio Lancashire: "I'm staying loyal to UKIP because I believe in UKIP."
"We fought for the Brexit, we got the Brexit. I'm not going to desert a sinking ship."
He said Mr Bolton's relationship with Ms Marner "wasn't an issue" for him personally, because "it was his social life, his private life".
He said: "I didn't take an interest in it, but members thought he had to go, so he had to go."
Janet Brown, the chair of Hyndburn UKIP in Accrington, said locals she spoke to were also uninterested in issues involving senior party figures.
"I don't get anyone talking about the leadership, to be honest," she said.
"It's more like the potholes in the roads, or the toilets being shut, or 'where have all the shops gone?'"
Former UKIP councillor Warren Bates, who is now an independent in Oldham, Greater Manchester, said the party's national problems had affected "grassroots" support.
He said. "They are finished. Gone. All the nonsense, the falling out and what have you, I don't think they can come back.
"They are completely out of touch with grassroots politics. As far as I'm concerned it's the end of them."
Earlier this month, UKIP lost control of Thanet District Council in Kent, the only local authority it had a majority on, when the leader Chris Wells announced he was stepping down.