Lancashire councillor investigated over 'sexist' Facebook post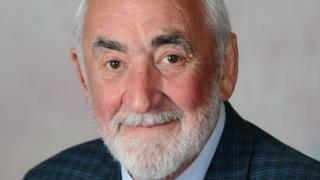 A councillor is being investigated over an alleged "sexist" comment he made in response to a young woman's claim she was sexually harassed in her car.
Jim Marsh was criticised after posting on Facebook: "Just looked at her picture. Can't blame him really. Lol".
The Conservative, who sits on South Ribble Council and Lancashire County Council, declined to comment when approached by the BBC.
South Ribble Council said it was investigating a complaint about him.
Writing on Facebook, the young woman had claimed she was harassed by a man as she sat in her car at a petrol station in Walton-le-Dale.
She received several messages of support, but Mr Marsh's comment prompted angry responses.
One Facebook user pointed out the woman was aged 18 and the councillor 65, and said: "I suggest you refrain from such comments or you may look like what we call a perv!"
Another user added: "What a stupid thing to say when someone was scared and anxious and trying to warn others.
"What a strange man. Aren't you supposed to be a respected councillor?"
Independent councillor Paul Wharton, who complained to South Ribble Council, accused Mr Marsh of having an "outdated sexist attitude".
In a letter to the council's Conservative group, he said the woman had "suffered arguably a traumatic experience" and he found the matter "very disturbing".