Vulnerable woman rescued from Fleetwood beach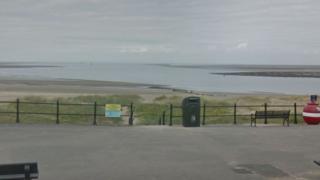 A vulnerable young woman who became stuck in mud on a beach has been rescued from the rising tide.
The woman was becoming hypothermic on Fleetwood beach in Lancashire when coastguard volunteers rescued her at about 21:30 GMT on Saturday.
Two male family members, who were searching for her after she went missing at 18:00, were also rescued.
The "distressed" woman was taken by ambulance to Blackpool Hospital, rescue officer Anton Vink said.
She was "cold, wet and muddy" and "going hypothermic" when she was spotted by a dog walker who shouted for assistance, he said.
She had been on the beach in the dark for more than two hours.
One man was "up to his waist in mud and water" while the other was found as he was "just about to be cut off by the incoming tide", he added.
Mr Vink thanked two dog walkers who helped in the rescue and warned that the Morecambe Bay area is "treacherous... with deep gullies and fast tides".