Fond farewell to 'Mr Blackpool' Jimmy Armfield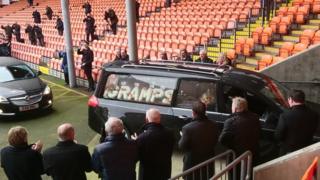 Jimmy Armfield's football career began in the days when greats like Sir Stanley Matthews caught the bus with the fans and ended as George Best was labelled the fifth Beatle as players became celebrities.
But Honest Jim, as he was known on the pitch, had more than one career.
He was a diligent journalist, a respected broadcaster and a masterful pundit.
He was a kingmaker for the FA, the hand who picked Terry Venables and Glenn Hoddle as England bosses, a Lord Lieutenant of Lancashire, and an NHS chief executive.
But today, he was simply Mr Blackpool.
All morning, flowers and tangerine tributes were laid at his statue outside the home of his beloved Blackpool FC, who the one-club man served with dignity and distinction.
They were interspersed with tributes sent from as far afield as Glasgow and Limerick, and as near as sworn Lancashire rivals Preston North End.
As his cortege entered the ground for a last foray down the touchline, the silence for the Tamesider who became a Seasider was so tangible, you could slice it.
Typical of the devoted family man, a visible floral tribute read simply "Gramps".
The crowd may not have been as plentiful as his last match in 1971 against Manchester United, but the volume of applause seemed just as loud.
He may have been an England captain and a national broadcaster, but people in Blackpool remembered a tireless charity patron and unofficial first citizen of his adopted home.
Long before Armfield died in Trinity Hospice, he was its president.
Staff member Janet Atkins recalled: "We had a five-a-side charity tournament Jimmy was presenting the prizes but arrived early and started coaching the teams."
People making their way to the Armfield stand, named a decade or so ago in honour the club hero, remembered a humble man.
"He never spoke about himself, he was genuinely interested in you," said supporter Richard Todd.
As the crowd bade farewell to the cortege, former Blackpool player Alan Ainscow said Armfield, whose boots he used to clean, was first to call him when he had been diagnosed with cancer.
He said: "Actually he wanted to speak to my wife - this was after he first had cancer - so he could tell her what the family could expect.
"It was typical of the man."
A true professional on the pitch, a perfect gentleman off the field and a pal with a pipe in his mouth to many.
The unlikely legend maintained old school values of hard work, courtesy and self-discipline and transcended the insular world of professional sport.
No wonder an impromptu round of applause echoed around the hearse as he left the town for a final time.