Jimmy Armfield: Blackpool match cancelled, but tributes to club legend continue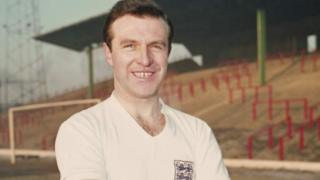 Match day tributes to former England captain Jimmy Armfield at Blackpool FC continued despite Saturday's match being cancelled due to a waterlogged pitch.
Armfield, who made a club record 627 appearances for the Tangerines, died of cancer aged 82 on Monday.
Tributes including a minute's applause had been planned for inside the club's Bloomfield Road stadium.
But the match against Charlton Athletic was called off shortly after 14:00 GMT.
A pre-match wreath laying ceremony continued as planned near Armfield's statue, while the Jimmy Armfield Stand remained open for supporters to enter the ground.
Sections of Blackpool supporters have recently boycotted home games in protest against the club's ownership.
However, thousands attended the stadium in honour of the club legend.
Other grounds across England also joined in a minute's applause.
Some Tangerines supporters have been at odds with club owners the Oyston family for years.
Blackpool won promotion to the Premier League in 2010 under them, but dropped back to League Two within five years.
Fans have staged demonstrations, match boycotts and social media campaigns over the way the family have run the club.
Speaking before the match was cancelled, Blackpool manager Gary Bowyer said: "I'm fully aware of everything that goes on at this football club, but for one day only I think it's right that everybody puts [those issues] aside."
Regarding fans who may still stay away, he said: "That's their decision and I respect that decision. But we're talking about an unbelievable man here. He was Mr Blackpool.
"For one game, people can come and pay their tributes to Jimmy Armfield. They'll never get another opportunity to do it."
Christine Seddon, chairman of the Blackpool Supporters Trust, said the group would lay a wreath at Armfield's statue outside the ground and observe a minute's silence.
She said it was "very much up to each individual" to decide if they wanted to then attend the match.
"Jimmy Armfield was very upset by the problems that have gone on, but he understood all sides, I think, and he was a man of principle.
"He would want people to do what they think is right."
Armfield was capped 43 times by England, 15 of them as captain, and later managed Bolton Wanderers and Leeds United.
He trained as a journalist after his playing career and was a BBC radio commentator for more than 35 years.