Roseacre Wood fracking: HGV routes to proposed site 'unsafe'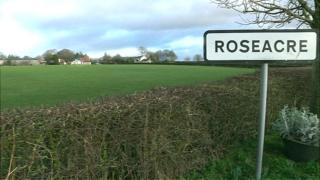 Revised routes for lorries to reach a proposed fracking site are "not safe", councillors in Lancashire have agreed.
Cuadrilla applied to extract shale gas at Roseacre Wood, near Preston, Lancashire but the government rejected it amid concerns over traffic impact.
Councillors voted unanimously to back an officer's report outlining concerns over proposed HGV links and present them at the public inquiry on 10 April.
Cuadrilla said it believed the routes were "viable".
The energy firm proposes using three routes for lorries to access the site instead of one, after it was told by the government to re-think its transport plans.
Chief executive officer Francis Egan had said previously the proposals should address outstanding highway safety questions.
Chairwoman of the anti-fracking Roseacre Awareness Group, Barbara Richardson, said the "ill-conceived" traffic plans would "risk lives".
She said the routes go through the rural heartland of the Fylde used by cyclists, dog walkers and families with young children plus horse riders.
"Theses roads weren't designed to have a high volume of the largest HGVs... not to mention the environmental damage fracking itself causes."
In 2015, the county council originally rejected Cuadrilla's application to frack at both Roseacre Wood and Preston New Road site in Little Plumpton sites on the grounds of noise and traffic impact.
The then Communities Secretary Sajid Javid allowed an appeal by Cuadrilla to frack at Preston New Road in October but Roseacre Wood was not given approval amid concerns over the impact on the area.
Mr Javid said he "would be mindful" to allow it, but he would reopen the inquiry on Roseacre Wood for further evidence on the highways safety issues.
Fracking - or hydraulic fracturing - is a technique in which water and chemicals are pumped into shale rock at high pressure to extract gas.