Preston New Road campaigners lose fracking appeal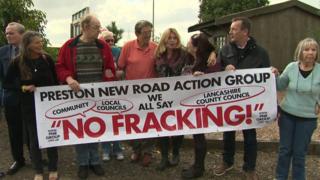 Campaigners have lost appeals against fracking at a site in Lancashire, as the company behind the project said the site had "excellent" rock quality for the process.
Court of Appeal judges rejected two challenges from Preston New Road Action Group and campaigner Gayzer Frackman.
They had claimed a decision to allow fracking in Little Plumpton was unfair and unlawful.
Cuadrilla said it was "very encouraged" by its findings at the site.
Communities Secretary Sajid Javid approved Cuadrilla's plans to frack at a site in Little Plumpton in October 2016.
Lancashire County Council had initially refused Cuadrilla's application in 2015 but it was granted following an appeal and planning inquiry.
The Court of Appeal has now dismissed both Mr Frackman and the campaign group's appeals.
The court said its role was not to consider whether the secretary of state's decision was "right" but "only to decide whether he had committed any error of law".
Mr Frackman said he would now seek to take the case to the Supreme Court.
The ruling, which has been welcomed by Cuadrilla, comes as the company announced it had finished drilling a vertical pilot well at Preston New Road.
The site has "excellent" rock quality for fracking and a high natural gas content in several areas, Cuadrilla said.
Hydraulic facturing or fracking is a technique designed to recover gas and oil from shale rock.