Preston trams: Firm appointed to build pilot line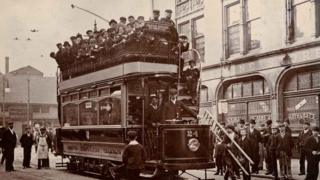 Plans to bring trams back to Preston for the first time in more than 80 years have moved forward as a firm has been chosen to begin work on the line.
The £25m Guild Line would link the city centre with employment sites on the edge of the city.
Preston Trampower Ltd has appointed Eric Wright Civil Engineering to build the tramway, starting with a pilot line on a former railway line in Deepdale.
Plans for the full network will be submitted later this year.
The pilot line was approved in 2016, and it is hoped the full service could be open by 2019.
The system will be built on part of the former Longridge to Preston railway and initially used for staff training and demonstration rides.
The first station, platform and tram shed will be built on a site in Deepdale Street.
Once completed, the Guild Line would have 12 stops at locations including Deepdale Shopping Park, Deepdale Stadium and the University of Central Lancashire.
The team behind the project hope it can be as successful as tram networks in other cities.
Professor Lewis Lesley, technical director for Preston Trampower Ltd, said: "We've all seen how the Manchester's Metrolink has been instrumental in the growth of that city and I have no doubt that a Preston tram system can provide a huge shot in the arm for the city's economy."
Trams have not operated in Preston since 1935.