Stalked vicar says Lancashire police made it "worse"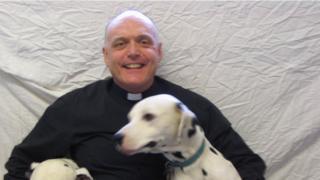 A vicar who was stalked by a woman has said police made the matter "exponentially worse for me, my congregation and also for my stalker".
The Reverend Graham Sawyer from Burnley told BBC Radio 5 live he asked Lancashire Police for help "13 months before they actually did anything".
Mr Sawyer was speaking after an ex-detective told The Times that victims of stalking had been failed by the National Police Chiefs' Council.
The force has since apologised.
Mr Sawyer, who serves the Briercliffe parish in Lancashire, said a female parishioner started stalking him in early 2014 after "her husband died in the most appalling circumstances".
He said he provided pastoral care as part of his priestly responsibilities.
But her demands for his attention kept growing, the woman ringing him "day and night" and sending about 500 emails until the situation "became impossible".
He believes "that gave a pseudo-legitimacy in my stalker's mind to turn their positive infatuation for me into a very negative one and that's when it turned very, very nasty".
But his congregation nearly halved when between 20 to 30 people stopped attending his church after his stalker spread rumours about him locally.
"It was a hate campaign and it became a mob mentality to get rid of me. Had I not been supported by my parish officers… I am sure I would have gone under, it was truly terrible."
He reported the crime in November 2014.
"I first called the police and sought their help 13 months before they actually did anything.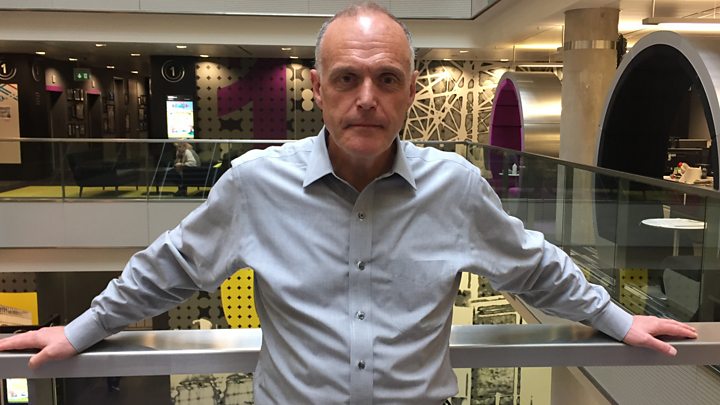 "Lancashire Police made matters exponentially worse for me, my congregation and also for my stalker because the most important thing to do with any stalking incident is early intervention - it nips it in the bud."
'To hell and back'
Mr Sawyer also said an officer went "behind my back to my bishop" to suggest the vicar may be charged with wasting police time.
The stalking stopped "immediately" in December 2015 once the woman was given a harassment warning notice and he "bears no ill will whatsoever towards her now".
"I can truly say the situation has been redeemed but we have gone to hell and back."
Asst Ch Con Terry Woods, from Lancashire Constabulary, said: "While this particular case was some time ago and our practices in dealing with such cases have moved on, we acknowledge that the level of service provided to the victim in this instance fell short of what could be expected and we apologise for that."
Recent figures show there were nearly 250,000 stalking and harassment crimes reported in England and Wales in the past year - a rise of 36% on the previous year.
But Crown Prosecution Service data show the number of cases going to court fell by nearly 10% last year.
A report by HM Inspectorate of Constabulary in July examined 112 cases and found none had been "dealt with well".
A spokesman for National Police Chiefs' Council added: "All police forces take cases of stalking very seriously and make every effort to bring offenders to justice and safeguard victims at the earliest opportunity."