New Blackpool £27m sea wall has 'embarrassing' defects, claims councillor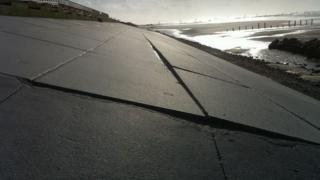 Part of Blackpool's new £27.1m sea defences need repairs, it has emerged on the day of their official opening.
The new defences, designed to reduce the risk of flooding to 4,800 properties and businesses, were officially opened by Environment Agency chairwoman Emma Howard Boyd.
Opposition Conservative Councillor Tony Williams said he was worried panels had lifted on the wall at Anchorsholme.
Blackpool Council said it had been a "complex and challenging" project.
Mr Williams said: "The panels have lifted in the recent storms and, to have an official opening when parts of the wall need repairing, is embarrassing."
Local resident Paul Hewitt, who has his own construction business, said there has also been "great distortion and movement" of wall slabs on the sea defences.
'Complex and challenging'
Councillor Fred Jackson, the cabinet member responsible for environmental services at the Labour-controlled local authority, said: "The design and construction of the sea defence wall has been a complex and challenging project.
"With any project of this size there can be additional work required to rectify any issues.
"We must not lose sight of the huge benefits that the sea wall is providing and will deliver in the future... this significant project is reducing the flood risk to 4,800 properties and businesses in Blackpool."
Builder Balfour Beatty said it was "aware of the localised lifting of some concrete sea defence sections near to the northern tie-in with Cleveleys, resulting from the recent storms."
It added there was no evidence of any risk to the rest of the sea defences.
The project needed repairs three years ago during its construction when stone foundations and a concrete base crumbled into the sea.