Safe stolen from Blackburn cricket club 'only held ball'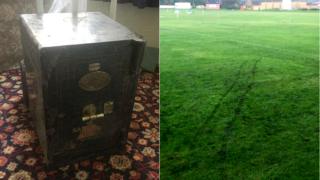 A burglar who dragged a safe across a cricket field before abandoning it would only have found a match ball inside, club officials have said.
The thief, who broke into Blackburn's East Lancashire Sports Club on Sunday, lugged the safe down stairs and across the pitch before ditching it unopened.
Club bar steward Janet Clark said the safe's weight was due to the concrete in its base and not its contents.
If he had unlocked it, "he would have found a ball worth £18.59," she added.
The club on Dukes Brow had lost the key for the 2ft (60cm) safe two years ago, but were certain there was only the ball inside, she said.
Club member Daniel Lord said match balls were stored in the safe to keep them in peak condition.
He added that windows and doors were also damaged in the break-in.
The safe has been returned to its original place in the clubhouse by Mrs Clark's husband and a police officer, who used "a trolley" to move it, as "it was so heavy", she said.
A 39-year-old man has been charged with burglary, Lancashire Police said.