Blackpool seaside donkeys seized by RSPCA in welfare probe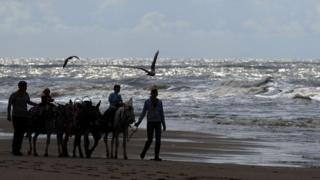 Donkeys used on Blackpool beach have been seized by the RSPCA amid concerns about their treatment.
RSPCA inspectors served a warrant to the owners of Fir Tree Farm, in the village of Salwick near Blackpool, to seize donkeys and dogs.
The BBC has contacted the farm but nobody was available for comment.
Lancashire Police said its officers supported the RSPCA attending an address on Harbour Lane, Salwick at about 07:20 BST on Monday.
In a statement the force said: "They received some animals from the address. Three people were seen by RSPCA inspectors".
Donkey charter
A spokeswoman for Blackpool Council said she was aware of an ongoing RSPCA investigation.
The council organises a veterinary inspection of beach donkeys each year and said it had issued licences for 79 donkeys in total for 2017-18.
It has also issued 25 donkey proprietor licences that are renewable on 1 June.
The beach is split into patches so that an individual can hold more than one licence.
The council's donkey charter, which dates back to 1942, stipulates that donkeys are allowed to work from 10:00 to 13:00 and 14:00 to 19:00 each day with an hour's break for lunch.
Seaside donkeys also have a day off on Fridays.
Nobody over the age of 16 or eight stone (50kg) can ride on the donkeys.
The RSPCA said it could not comment on individual cases but added: "We are so grateful to people who report suspected animal suffering to us and we would like to reassure people we will always look into and, if necessary, investigate any complaints."