Firefighters tackle fire in derelict Blackburn building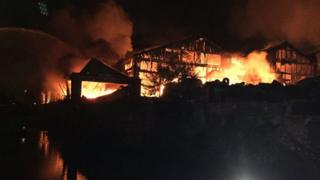 More than 70 firefighters are tackling a fire in a derelict building in Blackburn.
The fire is on Paterson Street and involves plastics and recycling, Lancashire Fire and Rescue said.
There are 10 fire engines and an aerial ladder platform at the scene, but no injuries have been reported.
Some local residents have been evacuated and others have been urged to keep their windows closed.
Incident commander Tony Crook said: "We're containing the fire to the actual building itself and preventing fire spread to the piles of waste that have been stored there."
Firefighters are expected to be at the scene for most of the day and the cause of the fire is under investigation.