Wedding reception held in Asda cafe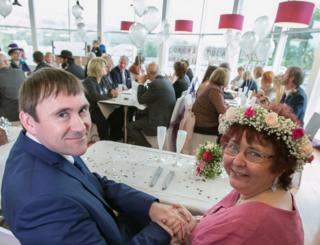 A newlywed couple have had their wedding reception in the supermarket cafe where they first met.
Lee, 42, and Gill Carter, 55, walked down the aisles of the Asda store in Rawtenstall, Lancashire, where it all began to celebrate their marriage.
Asda said the couple, who go to the store most days, could not afford an expensive party, so they offered to host the wedding party there.
The bride said the cafe was "a special place for us" and "looked wonderful".
The couple married at Accrington register office on Friday before making their way to the unusual wedding venue, which had been transformed by staff to celebrate their nuptials.
Staff at the store applauded the regulars, who live close by, as they arrived.
Mrs Carter said it "made our hearts pitter patter".
She said: "We had a fantastic day and all of our guests really enjoyed it too."
She said their romance started when the cafe was full and Mr Carter offered her a seat at his table three years ago.
Then it "went from a spark to a flame", she added.
'A day to cherish'
Mr Carter, 42, gave a special thanks to staff in his speech.
The groom said: "They have worked so hard for us and made our wedding day one to cherish for the rest of our lives."
Anne Whitley, who works at the branch, came up with the idea to host the wedding party there when the couple told them they were not sure they could afford to get hitched.
She said: "They're lovely - I adore them both - and it's wonderful we've been able to help them."