Ikea retail park in Lancashire approved by South Ribble council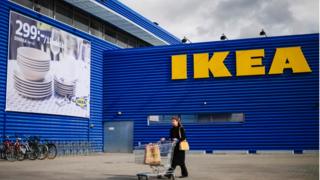 A £36m development that includes an Ikea store, a retail park and houses will be built after it was approved.
The scheme in Cuerden, Lancashire, could create around 4,500 jobs and was granted planning permission by South Ribble Borough Council on Tuesday.
Subject to a council legal agreement, work could start before Christmas, with Ikea provisionally opening by 2020.
Neighbouring Chorley Council, which objected, said the "adverse" effects of development should be minimised.
The first phase of the development costing £36m will see five large shops, six restaurants, hundreds of houses and almost 2,000 car parking spaces being created near Bamber Bridge on the 650 sq km development site.
The second phase yet to be costed could include a hotel, gym, car showroom, offices and warehouses.
Peter Mullineaux, leader of South Ribble Borough Council, said it will create "once-in-a-generation" economic opportunities.
"As with all decisions, residents are always our priority and we are absolutely committed to working hard with the developer to ensure this site is delivered with their best interests at heart."
But local residents at the planning meeting said it would "ruin their lives", and also claimed they "have not been consulted".
Chorley Council objected to plans amid concerns it could threaten its £17m town centre redevelopment.
Deputy leader Peter Wilson said the council is considering its next steps after the decision.
"We are not objecting to the principle of developing that site or Ikea as the main tenant - our concern is with mitigating the adverse impact that this type of development would have on our borough and the town centre."
The council had sought £11.5m in compensation over the plans but planning officers at South Ribble Borough Council said the payment cannot be "justified" and would threaten the scheme's viability.