Man denies shooting protected falcon at Bowland breeding site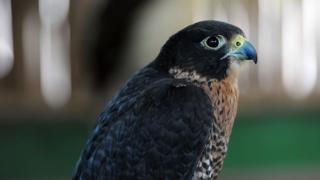 A man has denied a number of offences against wild birds including shooting a peregrine falcon and trapping another at a breeding site.
James Hartley, 34, of Bleasdale Lane, Preston, denied eight charges at a hearing at Preston Magistrates' Court.
They are alleged to have happened at the Bleasdale Estate, Bowland, Lancashire, in April 2016.
The prosecution was brought by the RSPB and Lancashire Police and relate to two peregrine falcon birds.
Mr Hartley will face trial at the same court on 12 February 2018.
Peregrine falcons are a protected species under the Wildlife and Countryside Act 1981.
The charges include the alleged shooting of one peregrine falcon and trapping of another, disturbing a nesting site and causing unnecessary suffering to a protected animal.