Blackpool guest house 'gas explosion': Six people hurt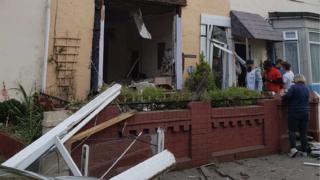 A 72-year-old woman remains in a serious condition after a suspected gas explosion at a Blackpool guest house, police have said.
The woman and a 29-year-old man were rescued from the rubble after the blast in Charles Street just before 18:00 BST on Saturday.
His condition is not thought to be serious. Four others were treated at the scene for minor injuries.
An investigation is under way into the cause of the blast.
Neighbouring residents have since returned home after they were evacuated and all roads have reopened, police said.
Ch Insp Ian Cooper, from Lancashire Police, said: "We are happy that everyone is accounted for and we have moved from a safety and recovery operation into the investigation phase to understand what the cause was.
"We will be working with our colleagues from Lancashire Fire and Rescue Service, Blackpool Council and utility companies to establish that."
He advised members of the public to stay away from site, which "remains dangerous".
"The building will need to be assessed for structural damage and deemed safe before we are able to go inside," he said.
Neighbouring resident William Burrows said the blast sounded like a loud "whoosh", adding: "Everything just came crumbling in... next door came down like a pack of cards."
Another neighbour, Paul Marks, said: "There was water, dust and rubble everywhere. It was absolute carnage."
A spokesman from Lancashire Fire and Rescue Service said: "After speaking to local residents we knew there were two people inside.
"One of them was on the phone to our control room saying they were inside, and we could see another casualty.
"They were physically trapped.
"One had to be lifted down from the first floor on the ladder on a longboard."
The spokesman said the blast had caused "significant damage" to one property.
"It's a row of terraced properties and this one house or block of flats, the front of the house is missing and around the back, part of the property has caved in," he said.
Update: This article has been amended after police said the woman was aged 72, not 90 as previously believed.