Nelson slave trial man given anti-slavery order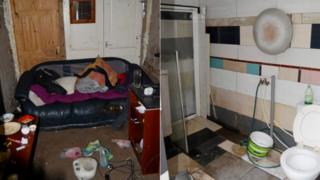 A man who was accused of keeping a Polish couple in poor conditions has been given a Slavery and Trafficking Risk Order.
Mohammed Riaz, 63, of Manchester Road, Nelson, Lancashire, was handed the order at Blackburn Magistrates' Court.
A judge ruled no-one can sleep in his outbuildings and he cannot pay less than the minimum wage.
In January, a jury failed to reach a verdict when Mr Riaz was tried for slavery offences.
Lancashire Police said an outbuilding at Riaz's address where a couple lived was made from "materials acquired from skips" and conditions inside were "appalling".
A spokesman said the pair were "forced to work long shifts, sometimes for nearly 17 hours", were "not permitted breaks" and were "were paid very little or sometimes nothing at all".
Handing down the order, Judge James Clarke said he rejected Riaz's evidence that he "expected nothing" from the couple and was satisfied Mr Riaz "controlled many aspects of their lives".
He added: "The payment of £4 per day was in reality a bare subsistence and meant that they had no choice but to remain. I am satisfied that he treated them as individuals at his beck and call with no real freedom to refuse."
Mr Riaz Snr was cleared of two charges under the Modern Slavery Act 2015 at Burnley Crown Court.
His son Khuram Riaz, 27, was cleared of similar charges earlier in the trial.
---
Slavery and Trafficking Risk Order
The Slavery and Trafficking Risk Order (STRO) was introduced by The Modern Slavery Act 2015
It can be made by a court which is satisfied an individual defendant may commit a slavery or human trafficking offence even if they have not been convicted
They are intended to allow law enforcement agencies to control the behaviour of individuals who may cause harm through committing slavery and human trafficking offences