Lancashire County Council plans to cut adult social care despite tax hike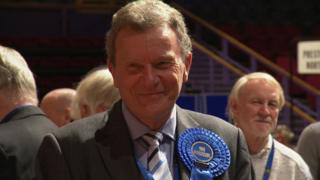 A local authority plans to make £5.5m of cuts to adult social care despite receiving additional funds for those services from council tax payers.
Lancashire County Council (LCC) was among a number of authorities that decided to add a 2% precept ring-fenced for the sector. This has raised £8m.
The government allowed councils to add the precept in 2015 after complaints the sector was facing a funding crisis.
But LCC said it "did not raise enough" as it plans £45m in further cuts.
It said it has now identified a £167m funding gap by 2020-21, including £90m in adult social care.
A council spokesman said the money from the precept in 2017-18 "doesn't really scratch the surface".
It plans to reopen libraries and put an extra £4m into road repairs and the bus network.
But children's social services face a cut of £3.5m under proposals which go before the cabinet on 14 September.
'Valued services'
Geoff Driver, leader of the Conservative-run authority, said savings would come "mainly from efficiencies" and there were no plans for job losses.
He said the council was working hard "to protect front-line services" while putting its finances on an "even keel".
He said he was "absolutely committed" to funding "valued" services.
Opposition leader, Labour's Azhar Ali said cutting the adult social care budget was a "retrograde step" and "targeting the most vulnerable in society".
He said it would have a "massive knock-on effect on the care sector".
Instead, he said the county council "should be asking the government for more support in adult and children's social services".
The Treasury has yet to comment.
Last September LCC projected a funding shortfall of £146m by 2020-21.
It said the current projected funding gap had increased "largely due to inflationary pressures and an increasing demand for services".