Manchester attack demo dinner lady allowed back at school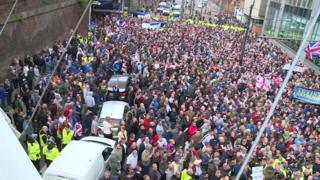 A primary school dinner lady suspended for attending a march co-organised by ex-English Defence League (EDL) leader Tommy Robinson is back at work.
Rachel Booth attended the rally on 11 June in Manchester, which organisers said was "against Islamic hate".
Ms Booth was suspended in July from her job at Moor Nook Primary School, Preston.
Headteacher Suzanne Clough said: "This matter has now been resolved and the member of staff has returned to work."
Ms Clough added: "We can now draw a line under this issue and get on with providing our pupils with the education that they deserve.
"It would not be appropriate for me to comment further."
A video message from Mr Robinson said he had spoken to Mrs Booth who was "happy" with the outcome of the disciplinary case. He thanked those who signed a 25,000 signature petition supporting her.
At the time, Mrs Booth said she attended the rally in sympathy for the victims of the Manchester attack that killed 22 people on 22 May.
Thousands of people attended the march by a coalition that calls itself UK Against Hate, held three weeks after a suicide bombing at an Ariana Grande concert.
The rally also drew hundreds of people in a counter-demonstration against the march.
Mrs Booth, who has worked at the school for four years, said she had attended with her mixed race husband, who is a former serviceman, to show solidarity with the bombing victims, not to support far-right extremism.