Blackpool couple shot children as punishment for not doing chores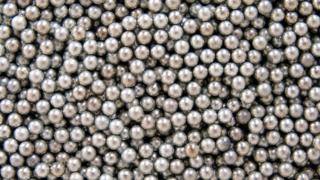 A couple shot their children with a BB gun as a "bizarre and frankly barbaric chastisement" for not doing chores properly, a court has heard.
The Blackpool pair, who cannot be named for legal reasons, used the weapon on their five children for four months, Preston Crown Court heard.
The "fairly trivial behaviour" punished included not changing a nappy, dropping items and failing to wash the dishes.
Both parents pleaded guilty to five counts of child cruelty.
The 50-year-old father was jailed for two years, while the mother, aged 33, was given a suspended sentence and ordered to do 200 hours of unpaid work.
'Shot over boyfriend'
The court heard the man bought the BB gun - a type of air gun designed for shooting pellets - in February 2016 and began using it to shoot birds and punish the children, aged between seven and 15, on a daily basis.
One of the girls, aged 13, was shot for having a boyfriend, as her father said she was too young.
The court was told that the father did most of the shooting and kept the gun down the side of the sofa, but his wife would take over if he was not at home.
The cruelty came to light in June 2016, when the 13-year-old told a teacher of her injuries, which included bruises and an open wound on her leg.
On arrest, the couple denied the allegations, with the father claiming he had only used a foam dart gun on the children. Both parents later admitted child cruelty.
Defending, Rosalyn Emslie-Smith said the father had "always accepted he has failed in terms of his parenting", while Ciaran Rankin, defending his wife, said the "misguided" shootings "began as a bit of fun and developed from there".
Sentencing the pair, Judge Robert Altham said they had developed a "regime of discipline" and created a "climate of fear" in their home.