Non-Muslim farmers sent 'hate' messages after halal move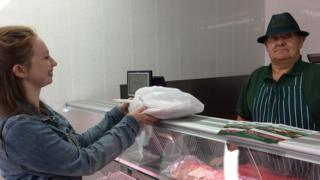 A farming couple said they received 20 "offensive" messages after switching to selling halal meat.
Non-Muslims Peter and Jean Bartley began selling halal chicken, beef and lamb earlier this year after a friend told them about local demand.
Mrs Bartley from Ward Field Farm, Galgate in Lancashire said she was shocked by the "ignorant" abuse.
A Lancashire Police spokesman confirmed that hate crime is a factor in their investigation.
'Overwhelmed'
"We've had quite a few comments saying that I'm 'racist'. They're saying, 'I shouldn't be looking after Muslims'," Mrs Bartley told BBC Asian Network.
"I've had to report them to the police because, to me, they are offensive."
Halal food is prepared according to strict Islamic dietary laws which forbid the consumption of pork or alcohol; halal meat requires a prescribed method of animal slaughter.
Despite the abuse, Peter said he is "overwhelmed" with the popularity of his produce with local Muslims and now all the meat he sells is halal.
One customer, Dawood Entwistle, travelled more than 30 miles to buy food from the Bartleys for the holy festival of Eid-al-Adha which began on Friday.
"My friend sent me an email saying this farmer's started diversifying into halal meat," he said. "You've got to support these people."
"He's made an effort and that's why I've made the effort. That's why I've travelled up."
Ward Field Farm is certified by the Halal Monitoring Committee.