Lancashire council leader urged to resign over senior management ban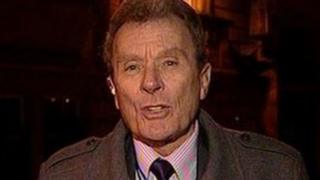 The leader of Lancashire County Council has been urged to quit after banning its chief executive and four other officers from briefings he attends.
Conservative Geoff Driver is one of four men being investigated over council financial irregularities.
Chief executive Jo Turton said she had been requested by Mr Driver not to attend briefings where he was present.
Labour group leader Azhar Ali said the ban was "wildly inappropriate" and has asked the government to step in.
Mr Driver has not responded to the request to resign or the allegations against him.
'Wholly unacceptable'
The police investigation, which began in 2013, relates to allegations of financial irregularities in the tendering of a £5m contract with One Connect Ltd, a joint venture between the council and BT to run some services.
The council leader was arrested in May on suspicion of perverting the course of justice and witness intimidation and later released, pending further inquiries.
In an email to all councillors, Ms Turton stated that since his arrest, she and four colleagues had been requested by Mr Driver not to attend briefings where he was present.
Mr Ali has written to Communities Secretary Sajid Javid, asking for him to intervene.
In the letter, he said Mr Driver had created "a wholly unacceptable situation", which was "isolating key members of the senior management team, who also happen to be witnesses in a police investigation".
He said Mr Javid should ask the council leader to either "withdraw this edict" or resign, arguing that the current position affects the council's ability to function and its reputation.
The Lancashire Association of Trades Union Councils has also written to Ms Turton, stating it would be appropriate for Mr Driver to stand down until the police investigation has finished.