Tesco fined £8m for Haslingden petrol station leak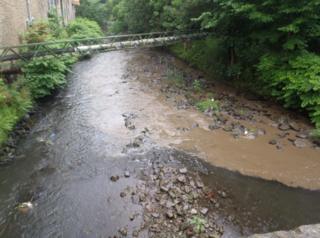 Tesco has been fined £8m after a fuel leak from one of its petrol stations polluted sewers and waterways.
The Environment Agency said 23,500 litres of petrol escaped from a tank over a 29-hour period in Haslingden, east Lancashire, in 2014.
The supermarket firm's "recklessness" resulted in homes being evacuated, residents suffering sickness, and the death of 40 fish, the agency said.
Tesco admitted health and safety breaches and an environmental offence.
It has issued an apology and said it had taken action to protect against similar fuel spills from its petrol stations.
Medical attention
Preston Crown Court ordered Tesco to pay more than £57,000 in costs.
Mark Easedale, environment manager for the Environment Agency said the pollution had a "massive impact" on the community and environment.
Mr Easedale said petrol entered the sewerage system with the odours affecting residents up to 1km (0.6 mile) away.
It caused some people to seek medical attention for headaches and sickness.
Some of the petrol entered Langwood Brook and the River Irwell, killing fish including brown trout and other aquatic life, the court heard.
The Environment Agency's investigation found the leak resulted from the supermarket's failure to address a known issue with the fuel delivery system and an inadequate alarm system. It was compounded by "poor" emergency procedures.
'Deeply unfortunate'
Mr Easedale said the sentencing sent out a "clear message to anyone whose recklessness causes serious pollution to the environment".
County councillor Albert Atkinson, deputy leader of Lancashire County Council, said: "The fact the leak was allowed to continue for more than 24 hours undoubtedly contributed to a risk of harm to people living and working nearby, as well as emergency services attending the incident."
A Tesco spokesman said: "We sincerely regret the fuel spillage incident at our petrol station in Haslingden and we're sorry for the impact it had on the local environment, our customers and the community.
"This was a deeply unfortunate isolated incident and one for which we have taken full responsibility."