Baby murder trial: Burnley mum suffered 'acute stress reaction'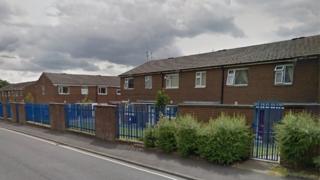 A mother accused of murdering her newborn daughter suffered an "acute stress reaction" after giving birth, a psychiatrist has told a jury.
Rachel Tunstill, 26, accepts she stabbed Mia Kelly to death with a pair of scissors in the bathroom of her home in Burnley, Lancashire, but says she cannot remember doing it.
Dr Fareed Bashir told Preston Crown Court Ms Tunstill's balance of mind was disturbed.
Ms Tunstill denies murder.
'Clash of confusion'
After stabbing her newborn on 14 January, the defendant placed her child's lifeless body into carrier bags and put them in the kitchen bin.
Consultant forensic psychiatrist Dr Bashir, acting for the defence, said her reaction following the birth came against a background of mental disorder, including depression and her condition of Asperger's syndrome diagnosed when she was a child.
Dr Bashir said he could not establish exactly what was going through her mind but said: "Giving birth to a child in a bathroom, in a toilet, was extremely stressful.
"Her brain should have told her that 'this is a child and I should care for the child' but because she had Asperger's and other disorders, her emotions would not have fitted with what her brain had told her.
"There would have been a clash of confusion in her mind as to what to do. That may be an explanation."
The court heard the defendant, of Wellington Court, who was a deputy manager at a local residential home for people with mental health issues, had "a significant" family history of mental illness and self-harmed from the age of 11.
The trial continues.