Anti-fracking protests: Lancashire Police request for funding rejected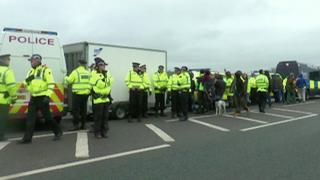 A request from a police force for extra government funding to deal with anti-fracking protests has been rejected.
Lancashire Police and Crime Commissioner (PCC) said the Home Office refused an appeal for help with a £450,000 monthly bill to police protests near Little Plumpton.
Shale gas extraction was approved at the Lancashire site in 2016.
The force can apply for extra help once the operation exceeds 1% of the PCC's annual budget, the Home Office said.
A spokeswoman for Lancashire PCC, Clive Grunshaw, said she expects costs to reach the threshold - which amounts to £2.6m - within six months.
Permission for energy firm Cuadrilla to carry out fracking at the Preston New Road site was initially declined by Lancashire County Council, but that decision was overturned by Communities Minister Sajid Javid in October.
Mr Grunshaw said officer resources "are being stretched to the limits" to provide "round the clock policing" at the site.
He said when the force reaches the £2.6m spend it will "only be able to claim anything over that initial cost."
He added: "That's £2.6m that could have been spent investigating child exploitation, serious crimes and domestic abuse, but instead is focussed on policing protests.
"Other crimes will continue to be investigated, but any additional resources that may have helped them be solved sooner may not be there."
Lancashire Police Federation has warned the force will be stretched throughout the summer as the protests have left it using "a lot of overtime" to "maintain normal services".
The Minister for Policing, Brandon Lewis, said he understands the PCC's "concern" regarding the impact that protests are having on the force but there is "no central government funding stream available".