Alston Hall near Preston badly damaged in fire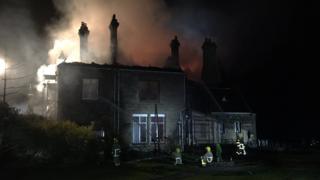 A 19th Century Grade II-listed house has been badly damaged in a fire.
More than 70 firefighters tackled the blaze, which broke out at Alston Hall, near Preston, at about 22:40 GMT on Wednesday.
The three-storey mansion, which was under renovation, was "well-alight" and most of the house had been damaged, Lancashire Fire and Rescue said.
Crews in 10 fire engines fought the fire using water from a nearby pond. The cause is being investigated.
A fire service spokesman said parts of the roof had collapsed at the Gothic-style mansion, and one person had suffered a "minor ankle injury".
Alston Hall, designed by architect Alfred Darbyshire, was built between 1874 and 1876 for colliery owner John Mercer.
It remained a family home until 1949 when the hall was sold to Preston Borough Council. In 1974 it was bought by Lancashire County Council, which sold it last year.
Four fire engines remained at the scene on Thursday morning, but the site was made secure by 11:00 GMT.
The fire service spokesman said: "At least 60-70% of the roof has been destroyed and that's obviously then affected the third and second floors of the building and some parts of the first floor.
"We have managed to save the chapel, which is attached to the building, and the fire hadn't spread to that."