Four children found in Leyland house with faeces on walls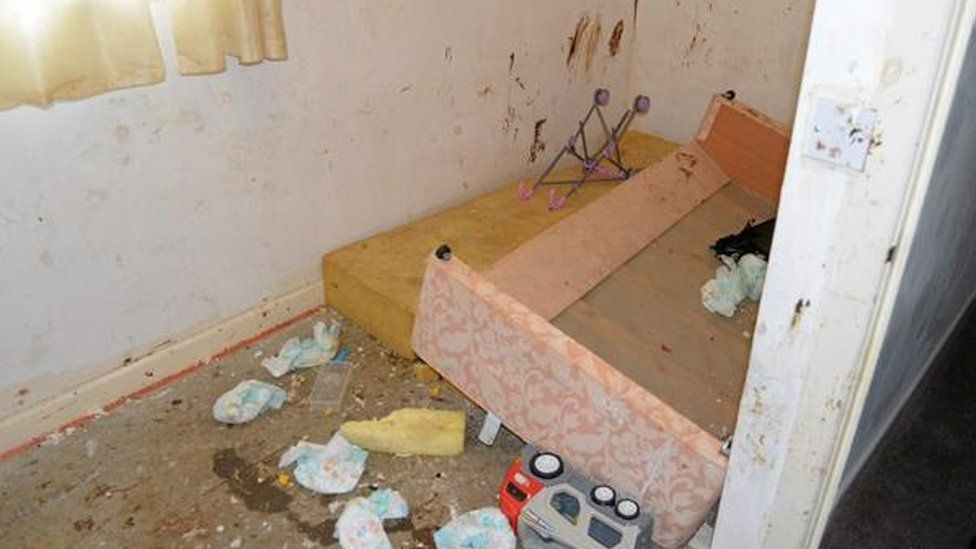 A couple have admitted letting their four children live in a "squalid" house with faeces smeared on the walls.
Lancashire Police found the children, all aged under three, in "a zombie-like state" in the "feral, dangerous" house.
They were surrounded by dirty nappies and had no food in the Leyland property, Preston Crown Court heard.
The father was jailed for 14 months while the mother was given the same term, suspended for two years. Both pleaded guilty to neglect.
The pair, who were sentenced on Wednesday, cannot be named in order to protect the identity of the vulnerable children.
The mother, who has mental health problems and was unable to cope with looking after her four young children, was also ordered to do 25 days of rehabilitation activity.
The children's father had become her full-time carer, the court heard.
Police only came across the children by chance while looking for their uncle in October 2015.
They found a little girl screaming out as she was trapped under a bed, and a baby sitting in a bouncer dripping wet with his own urine, the court was told.
Officers gagged at the overbearing stench of faeces as they entered a bedroom where two little boys were found naked from the waist down.
The walls were smeared with human excrement and about 15 dirty nappies were strewn on the bare floor alongside dirty plastic drinking cups.
Francis McEntee, prosecuting, said: "The children were, for all intents and purposes, dumb. Only the girl made a noise as she was trapped under the bed."
The Honorary Recorder of Preston, Judge Mark Brown, said the physical and emotional condition of the children showed they "had been subjected to a period of protracted neglect".
After initially staying with a grandparent, the children have been placed back in the care of the parents under "close monitoring" by the local authority.
Amanda Hatton, director of children's services for Lancashire County Council, said the council recommended to a family court that they be looked after permanently by extended family but the court disagreed.