Peregrine falcon found dead in Lytham St Annes 'shot with pellet'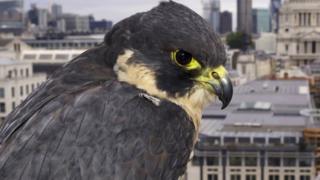 A peregrine falcon which police believe had been shot with a pellet has been found dead on a church roof.
The bird was found by officers at St Thomas Church in Lytham St Annes, Lancashire, at about 12:25 GMT.
Peregrines are a protected species under the Wildlife and Countryside Act 1981 and to kill or injure one is a criminal offence, police said.
"This poor animal appears to have been shot [and] suffered what looks like a pellet wound", Sgt Dylan Hrynkow said.
Anyone with information about the bird has been asked to contact police.
According to the RSPB, it is an offence to intentionally take, injure or kill a peregrine and offences are punishable with a fine of up to £5,000, a sentence of up to six months in prison or both.
Peregrine falcons
180mph (290km/h)
the top diving speed of a peregrine falcon
1,400 the number of breeding pairs in the UK, according to the latest figures

365 the number of breeding pairs in the UK back in 1961

3-4 the number of eggs a hen would usually lay in a year
Andy Thompson