Suspended Tory admits inappropriate Diane Abbott tweet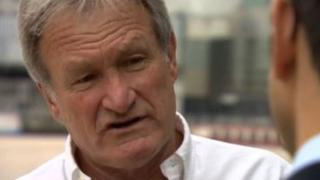 A Conservative politician suspended over an offensive tweet aimed at Labour MP Diane Abbott has admitted his actions were inappropriate.
Alan Pearmain added a comment to a post of an ape wearing lipstick saying: "Forget the London look, get the Diane Abbott look" in December.
The deputy chairman of the South Ribble Conservative Association tweeted: "Nice lips kid. But a shade too much rouge".
But Mr Pearmain asked the BBC: "Why is it particularly offensive?
"People will take offence about everything, won't they?"
A Conservative spokesman said: "His comments are completely unacceptable and he has been suspended from the party, pending an investigation."
Asked in an interview with BBC Radio Lancashire whether his comments were appropriate, the parish councillor in Farington, Lancashire, said: "I suppose in retrospect, no".
But he added: "To me this stinks of false news but you know, you have to live with these things."
He said he was "disappointed" at being suspended by the party but said: "I also feel a bit annoyed at myself for letting them down.
"In retrospect it's going to reflect on them for three or four months and that I should apologise for".
Asked if he would say sorry to Ms Abbott, he said: "I would love to apologise to her but I would also ask her to explain some of the comments I've read that she's made - but I suppose you can because she's important and I'm not, people can pick and choose what they want to publish and how they do it.
Mr Permain describes himself in his Twitter profile as "positioned slightly to the right of Attila the Hun".
Labour councillor for Middleforth, Keith Martin, said he noticed the tweet and reported it to the Labour Party, describing it as "racist, degrading and offensive."
Lancashire police said they have not received a complaint.
The Labour Party and Ms Abbott's office have been contacted for comment.