Stolen baby tortoise returned to Ormskirk pet shop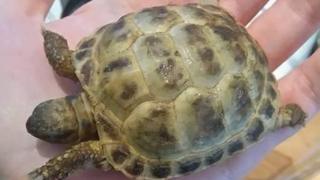 A tortoise which was stolen from a tank in a pet shop has been returned safe and well.
The exotic pet, which is 12 months old, was taken from Lathom Pets and Aquatics in Ormskirk on Tuesday raising concern over his "vulnerable" shell.
Following an appeal, the pet shop revealed on Friday that the tortoise was "anonymously dropped off" at the garden centre tills.
Lancashire Police confirmed it was investigating the theft.
The first thing [the tortoise] did was go straight over to the food bowl to fill up his little tummy, the pet shop reported.
Co-owner Katherine Broxholme said of the incident: "I was serving, chatting..and getting change out of the till for a woman I was serving. The tortoise tank is just a few feet away from the till. We only have five tortoises and when I checked later there were only four."
CCTV footage confirmed a man had taken the tortoise, she added.
Police said the tortoise was valued at £120.