Chorley Hospital: A&E department reopens part-time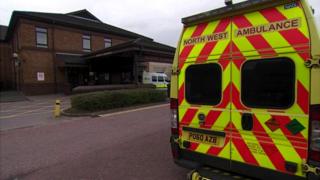 An accident and emergency unit closed for nine months due to a staff shortage has reopened part-time.
Chorley Hospital's A&E department was shut and downgraded to an urgent care service in April last year, prompting protests.
Lancashire Teaching Hospitals NHS Trust said there were "no other safe options" due to a shortage of doctors.
Chorley's A&E will be open for 12 hours a day and will run alongside a 24-hour urgent care centre.
The unit opened at 08:00 GMT and will run until 20:00.
In a report to Lancashire County Council, the trust recommended the change, saying a 24-hour A&E service was "not currently realistic" or feasible.
The council had earlier criticised the trust, saying the closure should have been avoided.
Responding to 10 recommendations made by the council's health scrutiny committee in September last year, the trust said it was "fully committed" to reinstating the A&E and had a "focused recruitment plan to secure additional staff".
The town's Labour MP, Lindsay Hoyle, accused the trust of being "incapable" and called for senior managers to resign.
The reopening of the emergency department has been timed to coincide with the launch of 24-hour urgent care centres within both Chorley and Royal Preston hospitals.
This would enable workers who are currently running urgent care to move back to the A&E department and plug staff shortages, the trust said.