Son acquitted of forcing Polish couple into slave labour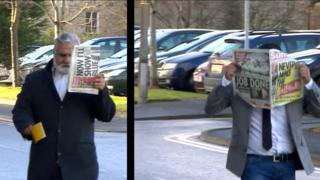 A man on trial with his father accused of forcing a Polish couple to work for £4 a day has been acquitted.
Khuram Riaz, 27, denied forcing or compelling Margorsha Bienick and Michal Czesniawski into labour in Nelson, Lancashire.
Her Honour Judge Beverley Lunt directed the jury at Burnley Crown Court to record not guilty verdicts for Mr Riaz Jr saying he had no case to answer.
The case against his father, Mohammed Riaz, 62, continues.
'Acts of goodwill'
Mr Riaz Sr has been charged under the Modern Slavery Act.
In April 2015, the couple were found living in "a 10ft by 7ft shack" that was filthy, damp and mouldy, the court heard.
At an earlier hearing, Ms Bienick said she was made to work from 07:00 until 22:00 at night for as little as £1 per day.
This was eventually raised to £4. If the pair wanted a day off, they had to pay £7, the jury was told.
Mohammed Riaz, of Manchester Road, Nelson said giving the pair somewhere to live and some food were "acts of goodwill".
HIis lawyer, Stuart Neale alleged the Polish couple were alcoholics who would have been on the streets but for the help offered to them by Mr Riaz Sr.
The trial continues.