'Special measures' East Lancashire NHS trust rated as 'good'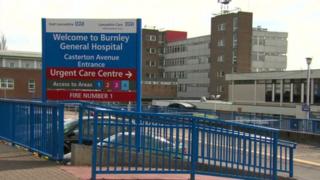 A health trust put into special measures three years ago has been given a "good" rating by inspectors.
East Lancashire Hospitals NHS Trust was placed in special measures by the Care Quality Commission (CQC) in 2013 following the Keogh review into higher-than-expected death rates..
The latest review praised improvements in patient care in the A&E department.
The trust, which runs hospitals in Blackburn and Burnley, said "there is so much to be proud of".
The health watchdog's inspection in September found improvements in dealing and learning from incidents and improvements in patient experience care at Royal Blackburn Hospital and Burnley General Hospital.
Safety and outcomes in the emergency department and urgent care centre and governance also improved.
Kevin McGee, chief executive of the trust, said: "This is a reflection of the hard work that our committed and dedicated staff have been carrying out ever since the trust was put into special measures.
"I have read the key findings in the CQC report and there is so much to be proud of.
"Our next goal is to improve even further, ensuring those areas still requiring improvement are tackled, and work towards receiving an 'outstanding' rating in the future."
The CQC said the trust still "requires improvement" for response times to accident and emergency patients.
Between July 2014 and August 2015, only 89% of accident and emergency patients were admitted, transferred or discharged within four hours on average.
The NHS target is 95% of patients should be seen within four hours.