Blackburn woman finds 30 bugs in Tesco bag of rice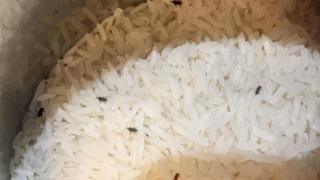 A woman has been left "horrified" after finding at least 30 insects inside a bag of Tesco's own-brand rice.
Jade Whittaker found the bugs - some of which were hatching eggs - in the sealed bag on Monday after buying it from a store in Blackburn, Lancashire.
Ms Whittaker, 21, who is eight months pregnant, said: "It was grim... They were crawling everywhere."
Tesco apologised and suggested they were "harmless" household pests. She was offered a £5 "goodwill" voucher.
Ms Whittaker, from Blackburn, bought the rice from a store in Hill Street "a couple of weeks ago".
She said she opened it days before the find on Monday but then sealed the bag with tape "as I always do".
When she came to use it again she spotted the insects, the majority of which were at the bottom of the bag.
Ms Whittaker said: "They were crawling everywhere. I don't think I'll ever eat rice again."
She said she hoped she did not unwittingly eat one of them.
Ms Whittaker tweeted Tesco to ask them whether they could be harmful to her unborn baby.
The supermarket replied to say it believed they were psocids which are "completely harmless".
In a statement, Tesco said: "We set ourselves the highest standards for the quality of our products so we are surprised to hear about this incident.
"We are investigating and will update the customer with our findings."